Mometamax - marketing campaign
Design, Book Illustration, Products

Intervet Schering-Plough Animal Health (ISPAH) is the Animal Health unit of Schering-Plough Corporation, a multinational pharmaceutical and therapeutic health products company.
Challenge
Market a new companion animal drug without advertising it to the general public.
Idea
Create a friendly, personable character icon that depicts the product. Design a customised USB stick shaped in the product character which contains a digital invitation to a launch event.
Illustrate a storybook for use in veterinary waiting rooms. The book is fun, engaging and depicts the products use. When the two main characters' names are joined, they form the product name.
Results
The marketing campaign generated a level of response activity that greatly exceeded the client's expectations. Additional copies of the storybook were requested by veterinary practices throughout Australia and book rights were sold to Schering Plough in Holland for international distribution.
The making of 'Max goes to the vet'
Insert video here.
Graphic by Design develops children's book to promote animal health product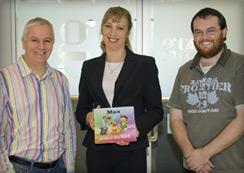 In an enterprising departure from traditional marketing tools, Central Coast advertising agency GBD have developed a children's book for an international veterinary pharmaceutical company and their new scheduled drug, which treats canine ear infection.
The challenge was to come up with a concept to promote a product that can't actually be mentioned, as it is prescription-only. The solution is as clever as it is fun.
The concept for a book was born from a single cartoon dog. Sally McPherson, a national marketing consultant, fell in love with the canine character designed for the advertising campaign.
"She loved it so much, she developed and wrote a children's book!" said GBD Chief Executive Officer, Jeff McGarn. "The challenge for us was to illustrate it and develop more characters to the supplied story line."
Which they duly did. Thanks to modern computer technology, cartoonists now work with a completely different set of tools. Gone are the paint brushes and air brushing, that you would imagine a Disney cartoonist using. Instead, a black and white outline of each character is initially drawn by hand. From there, the rest of the process – filling in the detail and colour – is all done digitally.
The result is a high gloss, eight page book, which will be distributed to selected veterinary clinics stocking the scheduled drug throughout Australia.
Mr McGarn said, "It's a cute way to get across to, not only kids, but the parents that read them the story that this is a great product for treating ear infections in dogs, and it only has to be used once a day. This makes it so much easier for people to treat their dogs."
In addition to the books, GBD have developed a print campaign along with a host of innovative campaign materials from brochures and point of sale banners to gift boxes and coffee cup holders. If you are interested in the book illustration process, take a look at the video above.
Read 'Max goes to the vet'
Click an image to enlarge