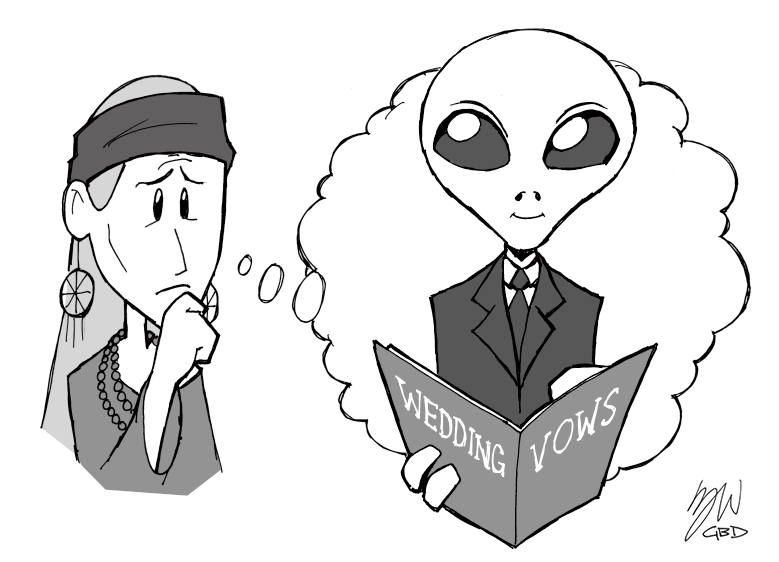 Would you retire in the same village as your parents?
14 Oct '15
Heather's Story
Wedding Countdown - Day-35
Hi Gang. I am creating this so I can share my thoughts with you in order to avoid an impending nervous breakdown. As you may or may not know - and if you don't well get ready, this is my impending (second) marriage (cue Pink Floyd: "A Momentary Lapse of Reason…").

Rob (the man in question) and I are determined that our wedding will be better than each of our first attempt at nuptials over twenty something years ago (at least, I think we are. Rob grunted something to that effect watching football). Unfooortunately, we're having trouble deciding who will marry us. Being born in the Age of Aquarius I'm of no particular faith, dogma or karma. Indeed, if I were, my karma would have run over my dogma years ago. But I'm a spiritual person. I believe in mutual love and respect for both humanity and the environment. I think Clover, my old uni friend, devoted vegan and now celebrity celebrant, would be perfect to conduct the ceremony. Robert on the other hand, is hardly the romantic type. He'd happily get married at a registry office, followed by a sausage sizzle (tofu snags notwithstanding) at the local park, and then onto schooners at the bowling club, followed by a noisy round of darts. The real problem however is our parents. (Yes, even at our age!) My father has recently discovered Scientology (they cornered the poor dear at bowls one afternoon) and refuses to attend the marriage unless it's conducted by the chaplain of his local church/spaceship – no doubt electricity and wires are involved. Mum, a Dean Martin tragic, insists on a traditional wedding: catholic priest, long drunken speeches, tears, runny makeup and fetching hats. Rob's parents are dead, thank god. (Sorry, Rob, I didn't mean it like that.)
So here's the thing. How can I tell my very senior Mum that times have changed? (Cue: Bob Dylan) Hang on, aren't I a "senior" now? But I don't feel old. Mum's old. But I must be. I have a card that reads: Senior. (Groooan.) Robert's even talked about us buying into a retirement village. Where's my walking frame? Anyway, who is this bloody wedding for? Us or them?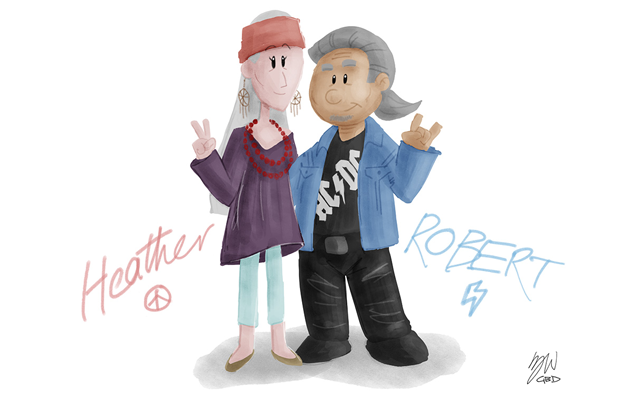 Jeff's thoughts
(Thanks Heather for kindly giving me permission to reproduce your fabulous wedding diary. A glass of wine is in the mail.)
Here's Heather's dilemma as I see it. There is a 20 to 30 year span between the ages of Heather's family and friends, which encompasses a wide range of likes, dislikes, beliefs, nutty fad diets and tedious wedding meal requirements. How can they possibly cater for them all without Heather's aforementioned "nervous breakdown"? Should they even attempt to? Or will their relationship dissolve in the process? (Their journey is interesting so do keep reading next month.) This is not an unusual situation for a second marriage. Yet consider this: retirement marketing faces the same dilemma. Sure, we've all read the statistics. Sixty per cent of (US) seniors say they feel misrepresented by advertising, while the majority of the new crop of Australian seniors (like Heather and Rob) say they feel younger than they are. But tell me, why is the term 'senior' consistently associated with white hair and walking frames? (I'm a senior myself. Yikes!) The reality is that the terms 'senior' or 'retiree' covers a 20 to 30 year span in which likes, dislikes, beliefs and needs are widely varied. How can retirement marketing possibly speak to them all? How for instance do you switch your marketing approach from Dean Martin to Joni Mitchel? From Electric Scooter to Harley Davidson?
The answer is you can't. The solution lies in the 'exact fit' principle. Products aimed at the average consumer no longer sell in a competitive market. Instead, marketers must design a specific product for the specific need of a specific consumer in order to compete. Retirement in the new millennia is no longer an 'off-the-rack' option, folks. It's a bespoke lifestyle product that meets the needs of individuals. There is no average consumer anymore.
This is underscored in overseas markets where I've discovered retirement marketers are exploring new, innovative ways to fit the needs of blooming niche seniors groups just like Heather and Robert. China is experimenting with campus-style retirement villages, building seniors universities (yep, it's true). Village operators in the UK and Europe are incorporating state-of-the-art health centres and personal trainers to meet the demand for improved physical health. The US is thriving on luxury retirement, with estates offering world-class chefs, theatres and a Day Spa. Some of the strategic thinking is first class.
So what are the unique needs and desires of today's Australian retirees? Moreover, ask yourself this: does Heather need a rose garden or a herb garden? Does Robert prefer billiards or pool? If you don't ask yourself these fundamental questions, how can your product achieve maximum impact?
P.S Thanks to Mark at GBD for such great illustrations.

---